So that was it 😉 Touching the 23 year mark yesterday and believe me what a day it turned out to be. Right from the beginning to the end of the day, it was amazing. Being away from home, still there were a few guys who didn't made me feel much about it. Those special friends, thos special kamineys to be more precise, they turned the day to be a mindblowing day.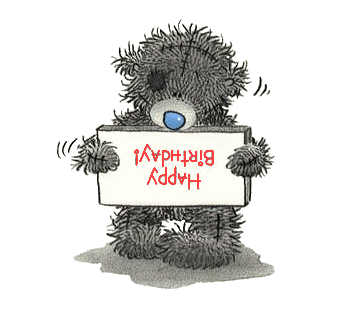 Starting off with the regular ritual that flat mates started off with… the regular Cake cutting ceremony. They were planning from a long time 😛 and as if I didn't knew 😉 and that Chocolate cake splashed on my face… Yuks!!! Believe me choc is not the type of cake you would wish to get yourself applied on with. It stinks like anything 😛 But there was no bathing ritual with anything, so that came out pretty well. (BTW We missed Abhishek for that 😛 ). B'Day bums were to follow but I again got blessed due to lack of manpower 😀
Wishes from friends followed, but one of them didnt, and that wish came pretty late during the day, but along with that came an innocent surprise which I loved. I know I am going to get brickbats for writin it off here, but beleive me, I loved that part. The sad part was that we had office that day, and so here we all go to office, beginning our daily routine, which we cant help with 😛
Sharing B'day on same day as with Saran was a pretty good experience, and more so because he is in same  team as me 😛 For a few Moments we had our floor stop all the work and save snacks and sweets 😉 and trust me that gives a lot of time to relax and do TP. Fun @ work is what you may call it 😛 although for a single day. And B'day at office was also awesome… but again got chocolate cake 😛 and the Bumming up ceremony was a bit vigorous, and stressful, but I was fine 😉 Yea seriously 😛  but I remember who all were there 😛 to kick my butt 😛 kamino I too would get a chance.
What I felt good about was that a few top notch IT engineers (from my own batch, and that top notch thing is a sarcasm 😛 ) came to my bay and chatted 😉 after pain u surely have some gain 😛
That was one side… Office over, so time to move out as Arun and vidhi had arrived by then. So went to McDonalds for some time, along with Khyati and Manmeet. (Dunno why I fall to such preys, so dumb of me 😛 ) and there came the big surprise. Vishal was there, with a cake specially mentored to be applied on face. Grr… not again 🙁 and there I was plastered with cake in whole public view 😛 and then I was asked to change my shirt with a new one that Arun and Vishal had brought… aila.. How can they do this to me 😛 hehe… hopefully McD guys wont disbar me the next time I enter there 😛 Hehe ;). Not to forget the Bums for the third time in a day
So we went to Cascade for the treat, and there came up the other surprises, an awesome watch by the office group, consisting Daddu, MJ, Bulbul, Lee and Lambu (nicknames kaafi hai 😛 ) and the Bigger surprise was that Sunil also arrived there, straight from Pune.. I mean wtf was happeing with me… College buddies coming up out of nowhere, and giving such pleasant surprises. And the best of all even Khyati and others knew that 🙁 Chalo off there goes the Treat, having sumptous meal, with all the fun attached. Amazing experience.
Late at night just before the clock touched 12 yet again… there I went up in air again, this time with more manpower to handle me, and Arrrggh… Vishal I would remember ur B'day for sure.. 😛 mil tu dubara 😉
That summed up an amazing day, taking B'day bums for 4 times is no mean thing, with such people around 😉 A day made very special by Khyati, Arun, Vidhi, Bulbul, Vishal, Mrityunjay, Sonali, Saran , Manmeet , Pandavas and not to forget those who were deeply missed, Rahul, Abhishek, Bhavik ( Kaminey I was serious ), the PLG 😉 , Puneet, and all the others 🙂 Thanks a lot guys for making this day such a memorable one.
And Happy B'Day My Li'l Sis:) Yesterday was My day, today is yours… Enjoy it.